In Australia, new lending standards will continue to affect lending levels which, in turn, will influence property prices and the overall economy.
The global economy
The global economy is predicted to be slow this year. Europe and Japan are both at risk of being in a recession. However, the outlook for the US remains positive as its economy performed relatively well during 2018 and still appears to be the most robust developed economy so far this year.
"Do something today that your future self will thank you for." - Sean Patrick Flanery
Globally, interest rates are on hold as a slowdown in growth alleviates any pressure to raise rates. However, central banks may try a mix of rate cuts and unconventional policy measures in a bid to stimulate growth.
The Australian economy
The Australian economy is likely to slow throughout 2019, continuing the weak economic growth experienced in the second half of 2018. This is due to weaker consumer and business sentiment influenced by a mix of weaker global growth and the decline in house prices.
However, population growth which, in turn, grows the economy, interest rate cuts and government stimulus could help offset this.
Property market
The property price correction is likely to continue until the end of 2019, perhaps beyond.
Borrowers are finding it harder to meet lending standards and this has seen lower levels of investor lending especially in the key markets of Sydney and Melbourne.
As illustrated in the graph on page 2, credit growth (in blue) has generally been a predictor of future house price growth (in red). Current (weak) lending points to falling house prices in the short term.
Unemployment
The labour market tends to lag behind other parts of the economy and therefore it is anticipated that unemployment will increase owing to the lower economic growth outlook for Australia.
Interest rates
The Reserve Bank of Australia (RBA) will probably make at least one interest rate cut by the end of 2019 as the weaker economy and inflation outlook prompts a response from the RBA. Inflation continues to track below its 2% minimum target.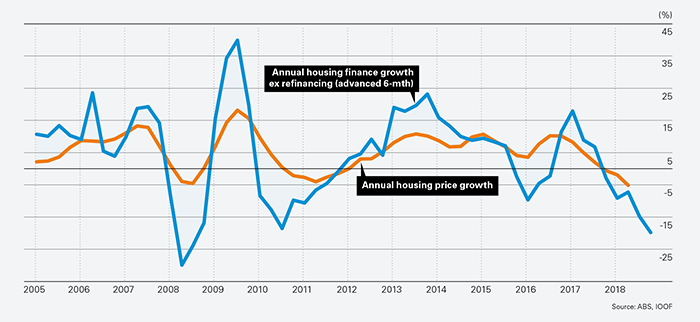 Figure 1: Annual housing price growth versus housing finance growth, Sep 05 to Dec 18
Source: Vertium Asset Management (Copia Investment partner)