Author: Francyne Mu – Portfolio Manager and Research Analyst, Franklin Global Equity Group
The history of societal progress is often told as the history of technological change. As managers of an investment strategy with a mandate to purchase companies driven by secular growth trends, we believe it's worth reflecting on how more subtle changes can act as a driving force at both the industry and company level to create new sustainable competitive advantages and profit pools.
In this article, we'll explore some of the companies held by Franklin Global Growth Fund that we see as innovating to enable better ways of doing business.
Rockwell Automation – Mining for efficiency
Today, technology like the internet of things (IoT) and machine vision is empowering companies to digitise their workflow process. Rockwell Automation is at the leading edge of building such IoT systems, one of which is their Factory Talk InnovationSuite (Factory Talk).
Factory Talk is a software platform that combines advanced analytics, machine learning, and Industrial IoT (IIoT) capabilities to improve organisational design in manufacturing settings. By integrating data from various sources within the factory, this platform provides real-time insights and predictive analytics that enable better decision-making, improved efficiency, and reduced downtime.
FactoryTalk connects to IIoT devices, collecting sensor data for analysis in the cloud. Advanced AI algorithms detect failure patterns and alert managers of potential issues.
Rockwell Automation is well-positioned to shape the future of industrial automation and bring about positive change for businesses and society alike.
Aptiv PLC - Driving innovation
Aptiv PLC specialises in automotive solutions and transforming the automotive industry with its advanced technologies and systems. The company's expertise in areas such as vehicle connectivity, electrification, and advanced driver-assistance systems (ADAS) is enabling the development of more intelligent and connected vehicles. These advancements not only improve the driving experience but also pave the way for a more efficient and environmentally friendly transportation ecosystem.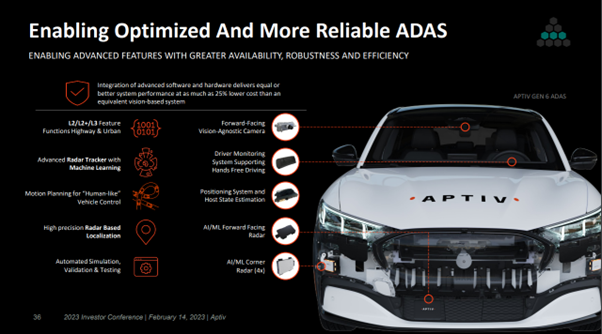 Source: Aptiv, Investor Conference Presentation, February 2023
Aptiv's integration of technological capital has the potential to create a sustainable business advantage by offering propriety systems that deliver a critical service. This will allow Aptiv to capture more of the automobile market value chain and place the company in a position to deliver attractive returns to shareholders.
Aptiv's journey from component integration to the development of advanced automotive systems and autonomous driving technologies shows what is possible. By embracing new technologies, Aptiv is well-positioned to shape the future of transportation and bring about positive change for society.
Organisation design – The backbone of proprietary systems and processes
Organisational design plays a pivotal role in shaping the modern business landscape. Companies like Rockwell Automation and Aptiv are developing proprietary solutions to create sustainable competitive advantages.
In a fast-evolving world, we believe the power of organisational design will serve as a key driver for growth, fostering innovation and efficiency, and ultimately positioning businesses at the forefront of their respective industries.
Important Information:
Source: Franklin Templeton Australia Limited (ABN 76 004 835 849, AFSL 240827). The information provided should not be considered a recommendation to purchase or sell any particular security. It should not be assumed that any of the security transactions discussed here were, or will prove to be, profitable.
This publication is issued for information purposes only and does not constitute investment or financial product advice. It expresses no views as to the suitability of the services or other matters described in this document as to the individual circumstances, objectives, financial situation, or needs of any recipient. You should assess whether the information is appropriate for you and consider obtaining independent taxation, legal, financial or other professional advice before making an investment decision.
Please read the relevant Product Disclosure Statements (PDSs) and any associated reference documents before making an investment decision. In accordance with the Design and Distribution Obligations, we maintain Target Market Determinations (TMD) for each of our Funds. All documents can be found via www.franklintempleton.com.au or by calling 1800 673 776.